Who sent the bomb that killed this newlywed man?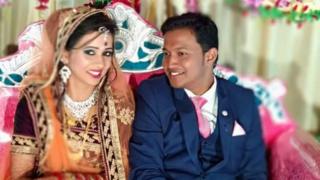 A "wedding bomb" that killed a newly-married software engineer and left his wife grievously wounded has shattered the peace of a small town in India. Nearly a month after the incident, the police have attained no headway. Soutik Biswas travels to the eastern nation of Orissa to piece together the story of a destroy that has riveted India.
On a bright summer afternoon on 23 February, five days after their wedding, Soumya Sekhar Sahu, a 26 -year-old software engineer, and his 22 -year-old wife Reema, were pottering around in the kitchen at his newly-built household home in Patnagarh, a drowsy , nondescript township in Orissa.
They were planning to grill eggplant and attain some lentil soup for lunch when Soumya heard the clanging of the latch of their metal gate. A delivery boy stood outside, holding a parcel responding to him.
A fraying sticker on the box said it had been is sending out SK Sharma from Raipur, some 230 km( 142 miles) away.
Reema recollects her husband opening the box in the kitchen, and determining a parcel covered in green paper with a white thread sticking out of it, while his 85 -year-old grand-aunt Jemamani Sahu came up from behind to insure what the parcel contained.