Rachel Roddys four bean-based recipes suitable for vegans | A kitchen in Rome
A kitchen in Rome: Italians have a lane with beans that sets them at the heart of everyday food, often in a shape thats incidentally vegan. Here borlotti reach a roasted chestnut-like softness alongside potato, tomato and herbs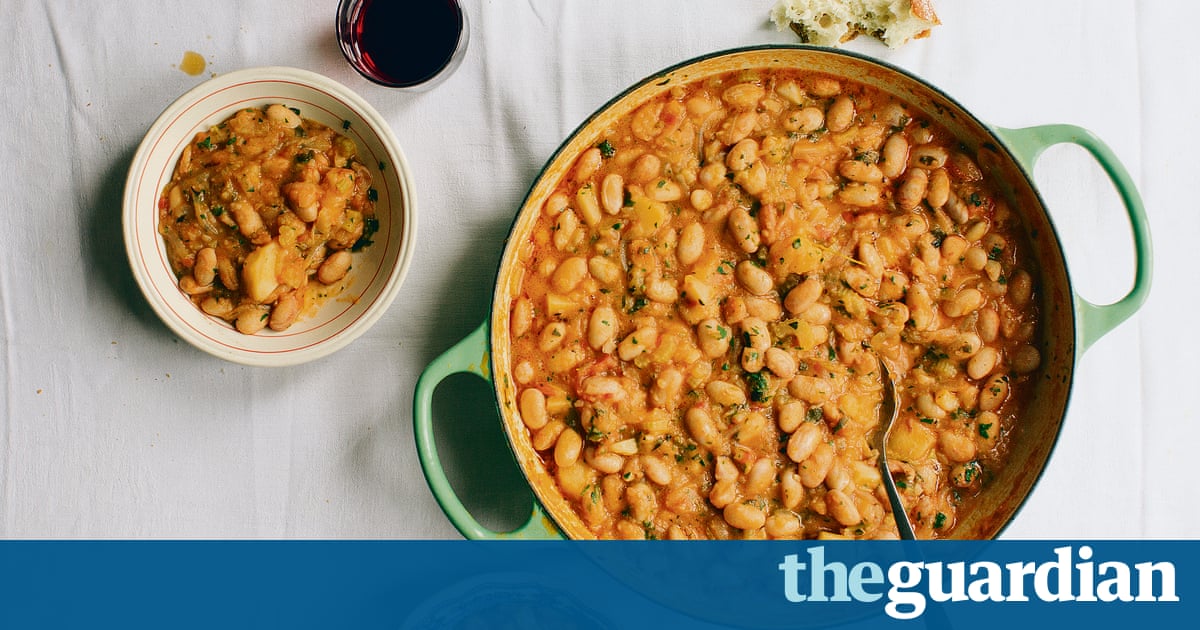 Friday nights at Pizzeria Remo run like boisterous clockwork. Whether you've been going there all their own lives, or it is your first visit, the routine is always the same. You put your name and number on a listing, then stand in line until you're called, the disorderly queue spilling from the pavement into the street. If all your group has arrived, you bump your way through the narrow pizzeria- past the lumber oven and the three pizzaioli, with bandanas and floury hands, spinning and paddling- to a table that seems far too small, but you all fit in anyway. Once you have all got your legs under the table, you immediately have to dislodge them so the waiter can embrace the table with a newspaper cloth, which you help tame as he dumps on to it a heap of small plates and cutlery, a slip of paper- the menu- and a blue biro with which to mark up your order.
We mark up the same things every week: a marinara and a capricciosa, a small red pizza, water and a litre of mansion red. But first, fried things on squares of white paper, a battered and fried courgette bloom( not as good as they used to be ). And, ever, a plate of white beans.
I love how Italian bean bowls could include meat and dairy, but so often don't- becoming, like so much good southern Italian meat is, incidentally vegan.
At Remo, they are just small-scale white beans- among other issues a piece of carrot and a ribbed inch of celery, around them some cloudy broth and a halo of olive oil- but they are delicious, at merely the right degree between floury and creamy: Romans say so' come burro," like butter ". They come with two large cushiony slicings of bread with which to sop up the broth." I think they cook these beans in the pizza oven ," I tell my friend, another Rachel, before going on about ashes and beans in a flask. The waiter, his allegiance to Lazio emblazoned on both his T-shirt and his forearm, is just coming up to get plates." You cook these in the wood oven ?" I ask. He looks blank. I try again." You cook the beans in the pizza oven ?" At this he makes a audio, the Roman equivalent of "nah", and tells me we are not in Tuscany." We soak them, chuck them in a big pan with carrot and celery and cook them until they are soft like this ," squeezing his thumbs." Buoni, eh ?"
Cannellini beans, borlotti beans, kidney, haricot, black-eyed beans … I am not sure what we would do without them. They are as much the backbone of what we feed as bread, pasta and potatoes are. Italians have a behavior with beans that sets them firmly at the heart of everyday food, without the shackles of being good for you or good for your pocket- though they are both.
Various ranges of beans run, but mottled borlotti are especially good for cooking into an nearly roasted-chestnut-like softness for this Patience Gray-inspired stew of beans, potato, tomato and herbs. It gives itself to variation though, so try it with various varieties of bean, seasonal vegetables and herbs.
Patience Gray's bean stew( main painting)
For today's recipe, the beans do need soaking( I leave myself a Post-It reminder near the kettle ).
Serves 4-6
500g dried borlotti beans, soaked overnight
500g plum tomatoes, fresh or tinned
6-8 tbsp olive oil, plus a little extra for drizzling
A large-scale onion, ideally white, peeled and sliced
1 garlic clove
Salt
A sprig of parsley
A handful of celery leaves
A sprig of thyme
500g potato, diced
Chopped parsley or cherry-red chilli, to serve
1 Cover the beans with fresh water, bring to the boil for five minutes, then drain and rinse. If you are using fresh tomatoes, peel them by plunging in boiling water for a minute, then cold water, at which point the skins should peel away. For tinned, drain the juice. Chop the tomatoes roughly.
2 In a large, heavy-based pan over a low hot, fry the onion, garlic and a pinch of salt in the olive oil until soft and fragrant. Add the chopped tomatoes, crushing them against the side of the pan, then simmer for 2 minutes. Roughly chop the parsley and celery leaves, then add to the pan along with the thyme and allow to bubble for a minute more. Add the diced potato, beans and the other small pinch of salt, stir then simmer for a minute more, cover with hot water and cook gently for 90 minutes or until the beans and potato are soft. The dish should be soupy, so if at any point the pan looks dry, add more water
3 To serve, scatter with a little more chopped parsley, a weave of olive oil, or some chopped cherry-red chilli, if you like.
Braised artichoke and butter beans
To serve four: Dice 1 onion, 1 carrot, 1 small-scale leek and 1 stick celery, then in a large, deep pan with a eyelid, gently fry with a pinch of red chilli snowflakes in 6 tbsp olive oil over a low flame until soft and fragrant. Meanwhile, trim and one-quarter 3 globe artichokes, falling the pieces into a bowl of juice of 1/2 lemons mixed with water as you go. Once ready, add the artichoke pieces to the pan along with 1 potato, peeled and diced and a pinch of salt. Stir so each piece glistens with petroleum, add 250 ml white wine then reduce to a simmer, embrace and leave to braise for 15 minutes, or until the vegetables are tender, stirring occasionally. Stir in 2 drained tinfuls of beans. Cook uncovered for 5 minutes, conjuring, until soft and brothy. Season, put aside then gently reheat to serve with bread.
Pasta e ceci- pasta and chickpea soup
To serve four: Gently fry 1 onion and 1 stick celery- both finely diced- in 6 tbsp olive oil until soft and fragrant. Add 1 small, diced potato and stir until each glob spangles. Add 1 sprig fresh rosemary, 1 tsp tomato puree and a small pinch of chilli flakes, stir and cook for a minute. Add 2 tinfuls of chickpeas, drained and rinsed, along with 1.2 lites of sea and a pinch of salt. Bring to the boil, then reduce to a gentle simmer for 20 minutes. When cooked, decant half the soup from the pan, blitz, then return it to the pan. Season to taste, then bring to a steady but moderate simmer. Add 120 g small-scale dried pasta. Conjuring fairly attentively, cook until tender, adding sea if necessary. Season and top with olive oil to serve.
White beans and wilted greens
To serve four: Fry 2 chopped garlic cloves, 1 chopped onion, 1 diced celery stem and a chopped small dried chilli over a low hot for 8 minutes, or until soft and fragrant. Raise the hot and add 700 g chopped greens( such as swiss chard, spinach, dandelion greens) a handful at a time, adding the next with a tiny pinch of salt when the previous one has wilted a little. Cover and cook for 5 minutes, or until the greens are soft. Remove the eyelid, cook for another two minutes, add 250 g of cooked cannellini beans and a beaker of their cook broth, conjure and cook uncovered for about 5 minutes. Serve with garlic-rubbed toast, grilled sausages or white rice. Alternatively use an blitz into a thick soup; top with breadcrumbs.
Rachel Roddy is a food writer based in Rome and won the Guild of Food Writers food writer and cookery writer awards for this editorial. Her new volume, Two Kitchens( Headline Home) is out now; @rachelaliceroddy