Minimum alcohol pricing to start in May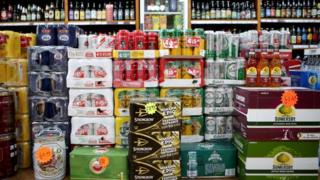 Scotland will introduce minimum pricing for booze on 1 May next year, the Scottish government has announced.
The move will elevate the cost of the strongest, cheapest booze by setting a minimum cost per unit.
Health Secretary Shona Robison told MSPs that she expected the cost to be set at 50 p-per-unit, but this will be subject to a consultation.
She said the measure was needed to tackle the "devastation" caused by cheap, high-strength alcohol.
The 50 p-per-unit minimum would raise the cost of the cheapest bottle of red wine( 9.4 units of booze) to PS4. 69, while a four-pack of 500ml cans of 4% lager (8 divisions) would expenditure at least PS4 and a 70 cl bottle of whisky( 28 units of booze) could not be sold for less than PS14.