Meat traces 'found in vegetarian meals'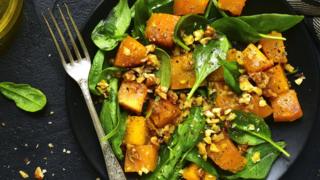 The Food Standards Agency has begun an investigation following claims that retraces of meat were found in meat classified as vegan or vegetarian.
The Daily Telegraph tested 10 vegan and vegetarian products at Tesco and Sainsbury's and detected meat in two.
Both supermarkets are analyse the claims, but added that preliminary DNA analysis on the products in question has not been able to raised any issues.
The FSA said its priority was to ensure customer confidence.
According to the Telegraph's investigation, a German government-accredited meat testing laboratory find traces of pork in Sainsbury's own brand Meat Free Meatballs, and traces of turkey in Tesco's Wicked Kitchen BBQ Butternut Mac.