Farm Girl Caf, Chelsea: We don't stay for dessert, because we have suffered enough restaurant review | Jay Rayner
The food was so bad, says Jay Rayner, a nearby Yorkshire terrier started to look more appetising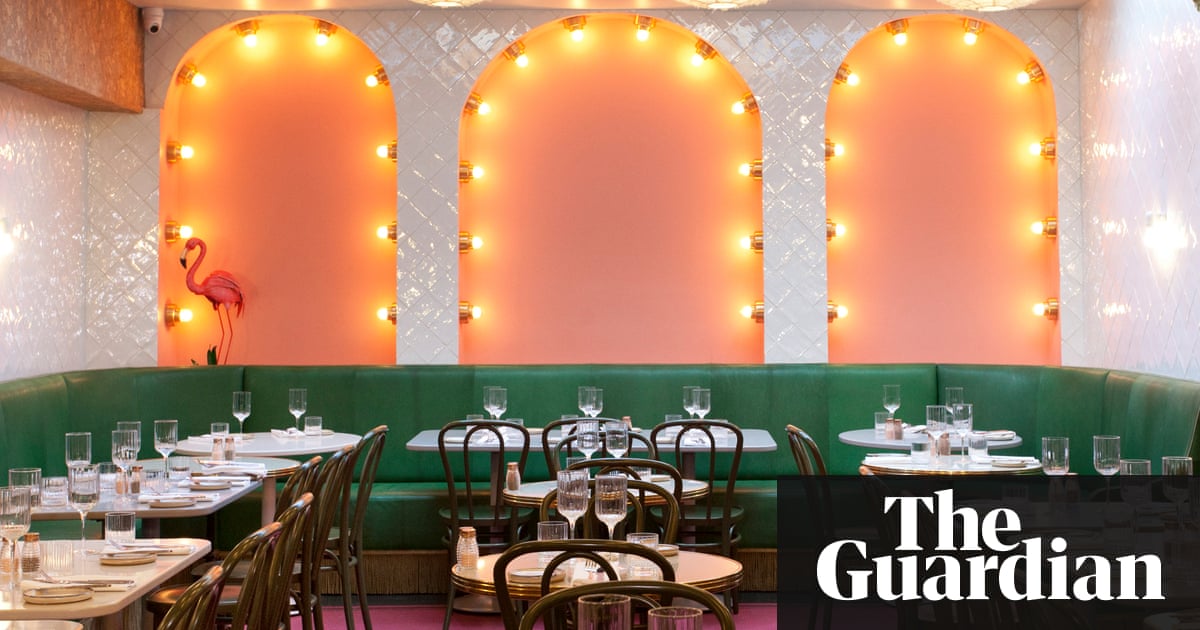 Farm Girl Cafe, 9 Park Walk, London SW1 0 0AJ( 020 3674 7359 ). Meal for two, including liquors and service PS110
The menu at the Farm Girl Cafe features lots of initials. There's V for Vegan. There's GF for Gluten Free. There's DF for Dairy Free. I think they're missing a few. There should be TF for Taste Free and JF for Joy Free and AAHYWEH for Abandon All Hope, Ye Who Enter Here. If you examine the company's website, and I would only advise doing so if you have strong teeth that they are able cope with a good grind, you will learn that the Farm Girl group offers:" A holistic and healthy yet comfortingly simple approach to Australian Cafe culture ." Nope, me neither. Apparently, they like to use" nutritionally nurturing ingredients", which sounds rather nice. I could have done with a little bit of fostering, rather than the dishes that came our way.
I have nothing against eating healthily. I have only one body and I try to look after it. My mom used to say that she hoped to die aged 98, shot dead by a jealous buff. She didn't quite manage it, but it's an ambition I'm happy to inherit. The menu here is omnivorous with a heavy emphasis on non-meat cookery, which is a fine thing. I like vegetables, me. They can taste really nice. But this sort of cook does have to be done with skill, grace and, ideally, an absence of malice.
The Farm Girl Cafe, Chelsea, is the third in a group which until now has stuck to charcoal or matcha lattes, and light lunches involving an nasty lot of almond butter, avocado and something called coconut bacon, which you just know isn't. This is the first to serve dinner, and it does indeed look like a proper eatery in a very Chelsea sort of way. There's a giant blue Welsh dresser behind the bar, faux wooden beams across the ceiling and banquettes in a field tint of green. It's like a cartoon version of a farmhouse as imagined by someone who hasn't been in one.
It fills promptly on a cold winter's evening, with blonde-tressed Chelsea women just bubbling with intolerances. They are fizzing with them, these dairy- and gluten-fearing dietary warriors, trying sanctuary from the terrifying world of modern meat. With them are their pink-cheeked, anxious-looking boyfriends, who clearly panic they are just one more rugby club, traffic-cone-on-your-head piss-up away from being chucked. A lady arrives clutching her Yorkshire terrier. They are given a corner table. The dog is offered a bowl of sea and a plate of food and disappears on to the flooring for dinner. At least person gets to eat well.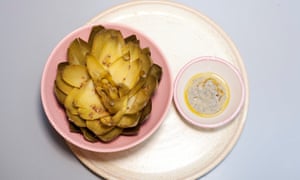 Read more: https :// www.theguardian.com/ lifeandstyle/ 2018/ mar/ 11/ farm-girl-cafe-chelsea-we-dont-stay-for-dessert-because-we-have-suffered-enough-restaurant-review